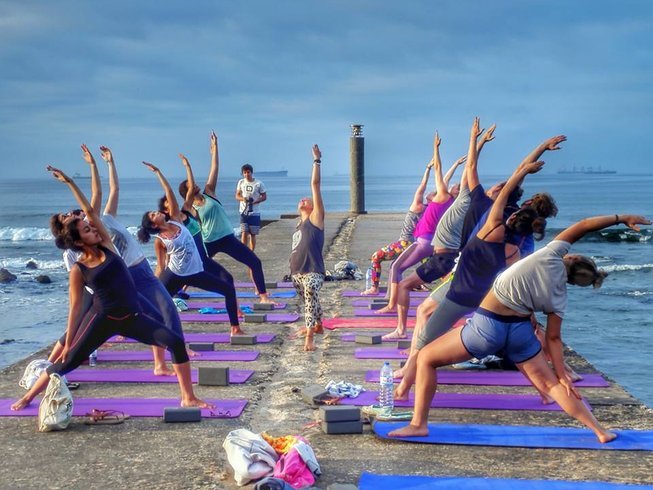 Yoga is your passion, but how to pursue it? If you are also clueless like I was in my initial yoga days, so read more and explore.
Having a passion is a good thing, but to pursue it as a career choice, you need to put in the extra effort. For a yoga enthusiast, joining a YOGA CERTIFICATION COURSE is an effort you must invest in.
Have you heard of various yoga certification courses but do not understand what it is and how it goes? If yes, here is a perfect blog to solve all your queries related to yoga certification courses.
What Do You Study In A Yoga Certification Course?
Yoga Certificate Courses are inherently rooted in the Indian yoga philosophy and comprise the following topics covered throughout the different levels of yoga certification courses.
Yoga (Introduction, Meaning, all the eight limbs)
Kinds of Yoga (Gyan, Astanga, Karma, Hatha, Bhakti, Nada, Mantra, laya)
Taking note of the medical issues of participants
Distractions in the way of Yoga and its benefits
Yoga Ahara (Yogic food) as well as nutrition
Prana: Five important ones and their significance, Human Body and its well-being functioning about the Yogic Science
Yog Parichaya
Anatomy, Physiology for Yogic Practice
Teaching Methodology of Yogic Practice
Eligibility Criteria
Though yoga certification courses are open to everyone, specific schools, and institutions follow a particular type of criteria. Below are the expected standards of yoga teachers' training for yoga certification courses.
Here are the eligibility criteria for pursuing Yoga certificate courses:
Candidates who have completed 10+2 or equivalent exams from any field and a recognized board are eligible.
The minimum age requirement is 18 years of age.
Candidates will be expected to have English language skills for this course. However, some specialized universities will teach Hindi, Urdu, or other Indian languages.
Students must be physically and medically fit to be eligible for the courses.
What Does A Yoga Certification Course Give You?
Once you are done with the yoga certification course, you will understand that the yoga certification course was a life-altering decision. The system will contribute to the following:
It will broaden your outlook on life, making you more positive and bright.
You will be overloaded with exceptional knowledge of yoga posture, alignments, history, and anatomy.
It will create a sense of inner peace in you.
It will help you practice mindfulness, and you can't thank it enough.
It will generate wisdom that you can impart to others.
It will help you create long-lasting friendships with like-minded souls.
It will make your voice sound more appealing and confident.
It will help you design a career that you will love your whole life.
The journey will help you to embrace the nature around you.
It will make you happier and more content than ever.
Goals Of Yoga Certification Courses
To impart authentic and inspiring yoga teachings to students at any level of a yoga certification course.
To enhance and deepen your love for yoga.
To offer skills that will bring you confidence and aid you in teaching others.
To create a positive learning environment that will help you grow more.
To develop long-lasting friendships.
To inspire you to inspire other lives with yoga.
200-Hour Yoga Teacher Training
A 200-hour Yoga Teacher Training is the initial level of the yoga certification course. It is 200-hour intensive yoga teacher training for all aspiring to become yoga teachers who want to enhance their yoga practice.
A 200-hour in-depth training about the fundamental principles of yoga, theory, practice, philosophy, and history. It is a transformational journey to self-discovery and a route that will help you know the essence of yoga. If you aspire to become a yoga teacher, unlock the door of 200-hour yoga teacher training and jump into the world of yoga.
The main aim of the yoga teacher training program is to unlock hidden energy within you. A 200-hour yoga teacher training will allow you to bring mental balance and acquire the taste of self-discipline. It will also help you become a prominent yoga teacher by giving you insight into yoga.
1. Introduction To Yoga And Yogic Practices
Learning about yoga and its philosophy is the first segment you will study in your yoga teacher training. It is one of the most critical and knowledgeable parts of the course. This syllabus section will take you to yoga's rich and dense history. You will learn how easy it is to incorporate yoga into our daily lives. You will know the following:
Introduction to Yogic History & Principles: History of Yoga
Introduction to four paths of yoga; Principles of yoga and yogic practice (Raja Yoga, Gyan Yoga, Bhakti Yoga, Karma Yoga)
Introduction to Yogic Anatomy (Theory of Chakras, Pancha Kosha, three layers, and Energy channels).
Intro to Yoga Sutra of Patanjali (eight limbs of yoga)
Introduction to Mudras, Bandhas & Kriyas: Theory and practice, benefits, and contraindications. Techniques and practical tips: Jala Neti, Kapalbhati, Vamana, Trataka by gazing at a candle flame or a specific point of concentration.
Learn the obstacles on the path of yoga and how to overcome them.
A dig into the Ayurvedic approach's introduction, the Yogic diet's importance, and its applications in daily life.
Learn about the Yogic lifestyle and ethics of a yoga practitioner and teacher.
2. Alignment And Adjustments And Teaching Practice
The alignment and Adjustment class will be conducted daily for more than one hour. The course focuses on the postures of Hatha Yoga, Ashtanga Vinyasa Flow, and a few more advanced poses.
Each session of Alignment and adjustment will include modifications, variations, and usage of props to adapt to everybody. The class is highly effective in making you learn how to teach the pose. It will give you enough hands-on practice in balances, backbends, and inversions. The alignment class will teach you the following:
The ethical guidelines for the quality of a teacher and practitioner
Positive & conscious communication Friendship and trust
Principles of management to the verbal instructions, observation, teaching styles,
Time management
Learn about the art of Demonstrations, Use of voice in class, assisting and correcting, dealing with injuries, and safety precautions.
Art of Alignment, at all the possible levels
Use of voice in class
Mental & emotional preparation for teaching
Class Preparation
Step-by-step class structure planning.
3. Human Anatomy And Physiology
Human Anatomy and Physiology is the most loved class of all. It is a fun and engaging style that helps to understand the human body in an exciting way. It is believed that studying human anatomy makes it easy to teach and practice yoga asanas.
Applied Anatomy is taught so that you can use it wisely and systematically in your teachings. Yoga Anatomy and Physiology include the following:
Yoga Anatomy & Application: introduction and Terminology to Anatomy and different systems
Introduction to Human Systems Yoga and Health
The emphasis on the Musculoskeletal, Respiratory, Nervous, Digestive Joints & Movement, and Muscular System
Functions of other systems of the human body
Familiarity with the benefits of various asanas on different human body parts.
Limitations and contraindications of specific Yoga practices.
300-Hour Yoga Teacher Training
The second yoga teacher training course level is the 300-hour yoga teacher training. It is suitable for those who have already finished the first level, i.e., 200- hour yoga teacher training.
Note that 300-hour yoga teacher training is not a substitute for 200-hour training. A 300-hour yoga teacher training is more intense and spread over 300 hours of training. It is also known as Advanced yoga teacher training. It will deepen your understanding of fundamental asanas as well as learn to teach more challenging "advanced" asanas. You will also dive into greater depth in yoga philosophy, as well as yoga anatomy and physiology.
You can not jump directly to 300-hour yoga teacher training, as it requires the completion certificate of 200-hour yoga teacher training. A 300-hour yoga teacher training is a more advanced personal and professional transformative yoga journey. In a 300-hour yoga teacher training, much of your time will be spent on expanding your knowledge of asanas while paying attention to the critical alignments and anatomical structures to deepen your practice and learn how to teach others safely.
A 300-hour yoga teacher training will make you learn:
Vinyasa flow intermediate to advance level practice every morning.
Yin, restorative, and other styles of asana are practiced a few times during the course.
Sequencing workshops.
It will provide you with regular student teaching practice and feedback from teachers and classmates.
Alignment/adjustment/teaching techniques workshops every day.
You will be practicing daily hands-on adjustments by teachers or fellow trainees to deepen your practice.
Learn about modifications and advanced variations of numerous postures.
Use props such as blocks, bolsters, straps, blankets, and walls in your yoga practice.
Posture clinics
You will be allowed to attend regular themed workshops on hip opening, headstands, inversions, back bending, and arm balances, among others.
Philosophy Classes Will Include:
Information, knowledge, and wisdom.
Karma Yoga and its practical applications in daily life.
Jnana Yoga and its applications.
Raja Yoga/Ashtanga Yoga.
Meditation, theory, and practice.
Dharma and Karma.
Understanding Bhakti Yoga.
Three Gunas: Sattva, Rajas, Tamas.
Gunas and food.
Importance of the right attitude.
Kundalini and chakra.
Samadhi, Enlightenment, and Moksha.
500-Hour Yoga Teacher Training
A 500-hour yoga teacher training is the highest standard for yoga teachers. It is a combination of 200-hour and 300-hour yoga teacher training. You will feel a shiver after understanding the facts related to yoga and our body.
The program will impart your extensive knowledge of yoga history and its origin. It will take you on the journey of meditation and pranayama, an unbelievable practice. The whole journey is meant to take your yoga practice to another level. You can feel like giving up at the start of a 500-hour yoga teacher training, but as soon as your body gets used to it, you will feel lovely. Each day at the center is like a new day that brings a different challenge. Your daily intensive yoga practice will know no boundaries, and you will shine.
It is an exciting and challenging journey that will change how you look at people by making you more compassionate and sympathetic. You will learn powerful meditation and concentration techniques to enhance your yoga game.
The syllabus Will Include:
History of Yoga
Impact of Materialism
Technology of Yoga
Mystics and mysticism of yoga
Yoga Ideology
Yoga as a Way of Life
Patanjali yoga Sutra
Bhagwat Gita
Bhavas Of Budhi
Psychology
Anatomy
Meditation techniques
Matra Chanting
Communication skills
At the end of the course, students undergo an exam and evaluation. The exam includes both practical and theory, and passing marks are 50%. Initially, students have to complete all the assignments, so they are permitted to take an exam. Students are also required to make 75% of attendance in class.
Yoga Alliance Certification- RYT 500
RYT 500 is a yoga certification, and designation recognized internationally. All participants who have completed 500-hour yoga teacher training can register for RYT 500. If you are looking for a job at a reputable yoga studio or thinking of opening a yoga school, then RYT 500 certification would greatly help you. It will make you eligible to teach students for 200-hour, 300-hour, and 500 hours.
If you want advanced knowledge about yoga asanas, meditation, philosophy, pranayama, yogic breathing, yoga Nidra & chanting, then 500-hour yoga teacher training is for you.
The Bottom Line
Joining yoga certification courses will be the turning point of your life. These courses will take your yoga practice to a new height, making you feel more empowered and confident.
Though the journey of yoga certification courses is filled with ups and downs, you may feel heavy, and at the same time, you may feel relaxed and light. The journey has enough to offer, and you will learn a life lesson. You will become a calmer, more compassionate, and more confident personality.
Just give it a thought, embrace the beautiful yoga teacher training journey, and receive the best yoga certificate for yourself. Create a vision for yourself and work hard towards achieving it.